Nothing a face mask can't fix! Your girl truly is a maskoholic. Here are my top fav cruelty-free masks, at the moment.
Masks for Moisture
Having a hydrating mask in your skincare arsenal is so important! I recommend everyone use one no matter what your skin type. Lots of people won't use moisturizing products if their skin is on the "oilier" side and convinced it's not for them…FALSE! Hydrating it healing, remember that. I love a dewy glow to my skin and moisture adds that perfect healthy bounce to it.
Glossier Moisturizing Moon Mask – This is my go-to mask when I'm feeling dehydrated, hungover or just in need of extra moisture. Think of this as a booster product. Instant glow & soothing powers. Sweet almond oil, plant-based squalane and hyaluronic acid plump the skin while licorice root & lemon brighten. I usually do this mask 1-2 times per week. Like my Mom always says "From the curls to the girls" I paint this mask on my face, neck & decollete. Wanna try it for yourself? Click on the link for 20% off your first order.
Origins Drink Up Intensive Overnight Mask– I love how intensely moisturizing this mask is! I add a pretty liberal amount to my face and neck before bedtime after I've done my normal skin regimen, skipping moisturizer.  The smell is amazing and I love that it's formulated without parabens, sulfates, and phthalates. I do this maybe once every couple weeks but I would definitely recommend my dry to extra dry readers to give this a go once a week. It dissolves away flaky patches that I'll get once in a while when I use acids or stronger chemical treatments. When I wake up my skin appears extremely dewy and more firm.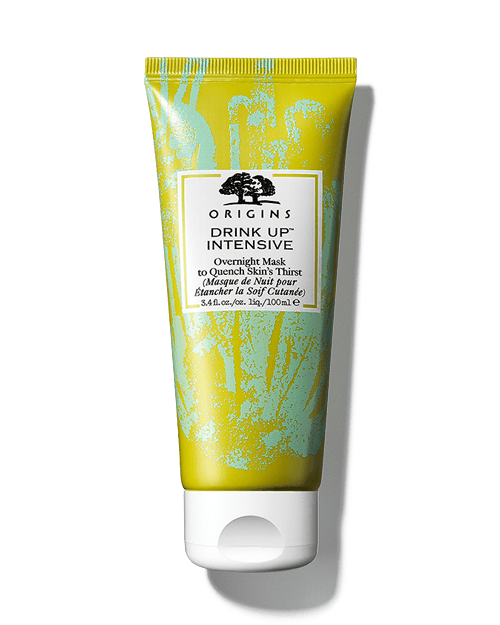 Mask for Blemished Skin
Aztec Secret Indian Healing Clay – Okay I'm still surprised with how much I love this mask. I purchased the 2 pounder at Wholefoods so I have several years before this baby runs out. This mask is 100% natural calcium bentonite clay. I will say it's very intense, drying & I urge you to only leave on 5-10 minutes! The clay has amazing pore cleaning properties helping to keep the skin clean. My face is bright red after this treatment so make sure you do it before bed and follow up with moisturizer right after. This mask gets so tight you can feel your face pulsate! Don't freak out this happens to everyone. I only do this once a month as a full mask and sometimes use it as a spot treatment for stubborn blemishes. I mix mine with apple cider vinegar instead of water because it kills bacteria, dissolves dead skin cells and returns acidity back into your skin, which helps with acne prone skin. My face may stay red for about 30 minutes post treatment but it's the most smooth it's ever felt.
Mega Greens Galaxy Mask – Think of this mask like a green juice for your skin! This is a great mask for cleansing and detoxing build-up gunk from the skin. It's a must to have a good detox for your skin from sweat, dirt, oil & makeup that can contribute to acne. Ladies, purging is normal and whats in must come out. So If you see your poor little pores starting to push out stuff, zits coming to a head or a breakout forming, that's normal. Girl, chill. Use this mask when you need it. Mega Green's leaves my face more on a soft matte side & I love the tiny beads in it that gives me gentle exfoliation. Shop this link to receive 20% off your first order.
Multitasking Masks
Charlotte Tilbury Goddess Skin Clay Mask – You've probably seen celebs like Kylie Jenner and Gigi Hadid who have endorsed this product over social media. The hype is totally understandable coming from a top model who is always putting their skin through stress. This is a skin calming, gentle, and nourishing basic clay mask. I love to use this mask even to prep skin before makeup for a perfected application. This mask gives just the right amount of dewiness and softness for an even balanced complexion. Leave on for 10 minutes & rinse!
Hot Vegan Probiotic & Spice Mask  – I was also surprised at how impressed I was with this mask with it being so inexpensive. ($15) It's a very runny and clear consistency which also threw me off guard.  Hot Vegan warms up on the skin while being applied and reminds me more of a peel treatment, which I like. This mask claims to decongest, depuff, rebalance skin and loosen impurities. I think it for sure brightens and simulates for a more glowy complexion. Give this a go If you are in the market for something less expensive or new to skincare that gives you the instant gratification of glowing skin.
Invest in skincare because your face is worth it.
I'd love to hear what masks you're currently loving!
-xx